Wind, caverns and the Adriatic Sea define the Slovenian/Italian border region of the Kras. For over 200 years, the Štoka family has nurtured the native red Teran and white Vitovska in the iron rich "terra rossa" that the Kras is famous for.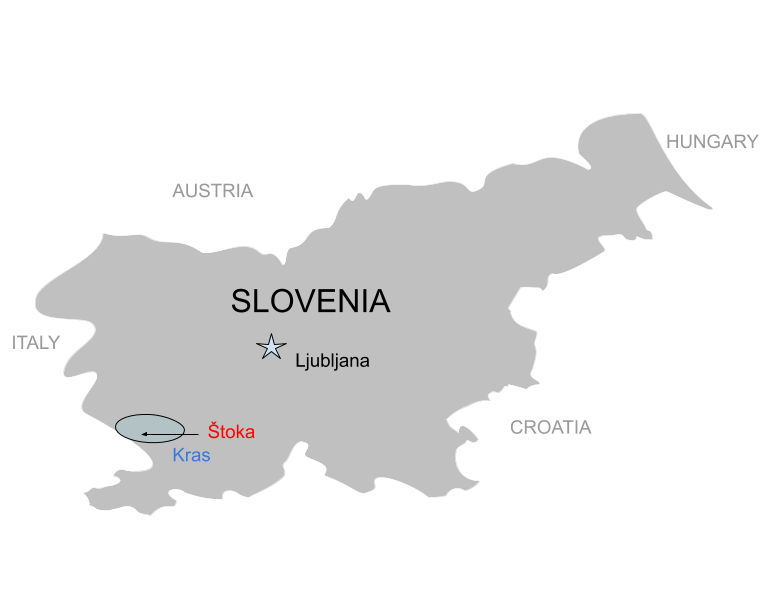 At a Glance
1989
http://stoka.si/eng/stoka
Kras
Sub Mediterranean
Red Karst (Terra Rossa)
250-270m
Limestone karst plateau
Teran, Vitovska, Cabernet Sauvignon, Chardonnay, Merlot and Malvasia.
7 hectares
Organic
Animal manure
The People
The Štoka farm is located north-east of Trieste about 5 miles from the Adriatic in the village of Krajna Vas. The Kras, or "Carso" as it is called in nearby Italy, is Europe's first recognized cross border wine region, the two countries even adhere to similar production regulations. Despite its excellent position, very little land in the Kras is suitable for grape cultivation, only 600 hectares of vines are planted between the 2 countries. The tiny amount of fertile soil is the result of various human and natural events. Historically oak forests dominated the land until the Venetians deforested nearly everything to build ships and city of Venice. The resulting erosion and the famously strong winds called the "burja" caused huge amounts of topsoil to simply blow away. People learned how to build stonewalls called "griže" to protect against the wind and small manmade lakes to gather rain called "kali" to keep crops alive. Farmers, including the Štoka family, even learned to transport soil to naturally protected locations.



Coupled with the regions already soluble bedrock (mostly limestone and dolomite) and lack of surface water, the Kras is riddled with sinkholes, cenotes, and massive mostly unexplored underground caves. It is one of the most severe and unique terroirs in the world. In addition to growing grapes and making wine, the Štoka family raise cattle and pigs. The pršut, or air-dried ham they produce is the ultimate compliment to their wines. Primož Štoka bottled his first wine 1989 just before Slovenia's separation from former Yugoslavia. Today, his son Tadej, works alongside him in the vineyards and cellar.
Vineyards
Historically, Teran from Kras has been prized for its medicinal properties, it is one of Slovenia's only wines of protected origin. Outside of Kras, the Teran vine is known as Refošk. The high content of aluminum and iron oxide in the Karst soil, gives the soil the characteristic red color and the wines their unusually high iron content. Conditions here are generally dry, windy and variable in temperature. The Štoka family farms about 25 hectares, Teran accounts for about half of this, the remainder is divided between Vitovska, Cabernet Sauvignon, Chardonnay, and Merlot. Most vineyards around 800 feet above sea level and sheltered by young oak forests that help tame the cool northerly winds, and trap the warm air of the Adriatic. All vineyards are dry-farmed, fertilized only with cow manure when necessary, and worked by hand. Averaging 20 years, vines are mostly mature, single gyot trained and planted to 5000 plants per hectare. Yields are severely restricted. Green harvest is typically performed in the Spring and then again just before veraison.
Winemaking
Grapes are hand harvested, sorted, de-stemmed, and fermented with native yeasts in temperature controlled stainless steel. Maceration of grapes during fermentation is practiced with white and red varieties alike, no sulfur is added until fermentation is complete. During vinification the wine is transported only with gravity. All Teran is aged in large used oak barrels. This is essential to tame the notoriously high acid of the variety. Used wood is critical so as not to disturb the delicate perfume of each variety. Wines are typically fined and filtered.
Teran;
12.4%
2.8 g/l
6.33 g/l
"Izbrani Teran PTP" is a further classification of Teran PTP. "Izbrani" could be compared to the Italian "Classico" designation. Blood red in color, briny, and amaro scented with Alpine forest fruits and Mediterranean herbs, this wine is perfumed with plenty of natural acidity. Naturally high in resveratrol, lactic acid, and iron, Teran has a medicinal history dating back to Roman Times. Livia Drusilla, wife of Roman Emperor Augustus, was said to favor Teran and lived to the then impossible old age of 82. Traditionally served with cured meats, and salty rare steaks, legs of pršut (Slovenian Prosciutto) even hang in the caves used to age this wine. Decanting is recommended for at least 30 min before serving.
---
Teran;
2.7%
5.87 g/l
12.95 g/l
Historically, Teran from Kras has been prized for its medicinal properties. It is one of Slovenia's only wines of protected origin. The high content of aluminum and iron oxide in the Karst soil gives the soil the characteristic red color and the wines their pungent ferrous quality. Made as a Peneče (pétillant-naturel), the bloody iron flavors are still there, but greatly lifted by fresh sour cherries and far more tart fruit than a typical macerated and open vat fermentation. If you're into dry red Lambrusco and are clinically anemic, then you've found your medicine.
---
Teran; Cabernet Sauvignon; Merlot;
13.2%
1.4 g/l
4.5 g/l
Other than the tannic old vine Miloš Rosé, this is the only other one we import. It's also the complete opposite. This is painfully fresh, zero maceration, and gets its color from the addition of a little Cabernet Sauvignon and Merlot to the Teran. We brought in a little to help fill a container years ago and it's become a small lot favorite even since. Sour cherries, watermelon, and a hint of the bloodiness that's common in the 100% Teran. Never rushed to market, it can handle some age as well.
---
Vitovska;
12.8%
9.1 g/l
4.67 g/l
Believed to be a cross between Prosecco Tondo and Malvasia Bianca, Vitovska is the white grape of the Kras. Herbal, lightly aromatic, and often with a lemon honey quality typically takes well to skin contact. However, made as a Peneče (pétillant-naturel), it captures the fresh herbal tea and lemon bit without the more spiced honey flavors. Disgorged once, bottled under a crown cap, and always carries a few grams of RS to balance out the bubbles.
---