Maurer, Szabadka and Fruška Gora, Serbia
We aspire to be as natural and authentic as possible in the production of grape and wine, and the wines born in this spirit tell a lot about their production site, yet every drop of wine contains our family's history, and the last 3000 years." — Oszkár Maurer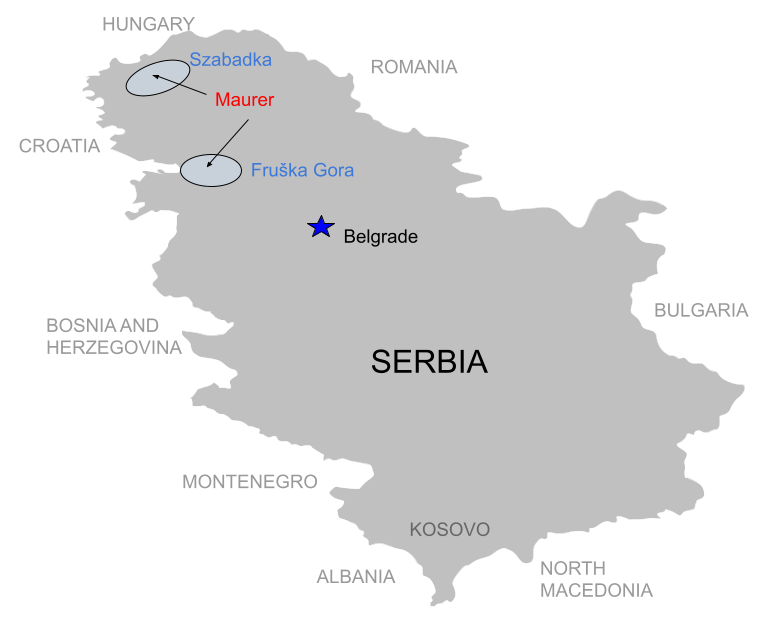 At a Glance
http://www.maurer.rs/
Szabadka and Fruška Gora
Sub-Mediterranean
Sand, volcanic and sedimentary rocks
90m to 270m above sea level
Sandy hills and also steep slopes facing the Danube
Mézes Fehér, Bakator, Kövidinka, Szerémi Zöld, Rhine Riesling, Tamjanika, Olaszrizling, Slankamenka, Hamburg Muscat, Ezerjó, Vadfekete, Furmint, Kadarka, Pinot Noir, Cabernet Sauvignon, Kékfrankos
15 hectares
Organic
Natural
The people
When we first visited Oszkár Maurer in 2015, we had to meet just over the border in Hungary at a restaurant because our rental car wouldn't allow us to enter Serbia. Insert politics here. He only had a few wines to show and it was more about what's to come than what he had at that moment. Since then we've visited multiple times, walked through his Kadarka planted in 1880 among many other incredible vineyards from the turn of the century, and his wife Irene has cooked some of the best food on any of our trips.
We've also witnessed his plans from 2015 come to life. Plans like expanding his production into the Fruška Gora, opening a tasting room/restaurant, and redefining what many of these nearly forgotten grapes taste like. Despite all the new things, he's always keeping a close eye on the traditions of both his grandparents and the region's 2000+ years of documented winemaking history.
Five years later he has more SKUs than we can count, experiments abound, and every single core wine is better. Where before all his labels were the same, now many of his labels feature the art of children from his village (ie Kövidinka) and or reflect his fascination with the cosmos (ie Orion). His aesthetic and philosophy are starting to permeate everything above and beyond the vineyards and cellar.
The Maurer family has been producing wine for four generations. It was during the Austro-Hungarian Monarchy in the 19th century that they moved from Salzburg to the southern part of the Kingdom of Hungary. They now farm 15 acres of land. 6 hectares in the Serbian wine region of Szabadka directly south of the Hungarian-Serbian border, and another 10 acres in the Fruška Gora mountain district in Syrmia, Serbia, located 40 miles away from Belgrade and bordered by the Danube River to the north.
For many years, Oszkár has also been helping other regional winemakers get their productions off of the ground in terms of mentorship, using equipment, storage and ultimately fostering a larger community of like-minded people to do something special.
Vineyards
Technically Maurer is in the Subotičko – Horgoškoj region in northern Serbia, but it was formerly a part of Hungary's Csongrád up until 1920. The population is mostly Hungarian and viticulture knows no borders, the grapes see no line in the sand. Names of grapes and places are therefore constantly changing from Serbian to Hungarian and vice-versa. Everything should be considered interchangeable and fluid. Oszkár farms about 6 hectares here including the oldest known Kadarka vineyard in the world planted in 1880 in addition to other plantings in 1912 and older plots of Kövidinka from 1925. The rest of the plantings include grapes like Olaszrizling, Slankamenka, Ezerjó, Kadarka and Kékfrankos. There's also a smattering of international varieties including Cabernet Sauvignon, Merlot and Pinot Noir as well.


Oszkár also has 9 hectares in the Srem region a little further south. Hungarians called this area Szerém, the Croatians Srijem (part of it still spills into Croatia), and long before that the Romans called it Syrmia. The Roman Emperor Probus was born here and devoted a lot of his time to growing grapes. Illyrians and Celts lived here as well. The main feature, apart from the Danube River, is the Fruška Gora Mountain. Once an island in the Pannonian Sea, the soil is volcanic with a marine layer. Some call it the "holy mountain" or "Serbian Athos" because at one point there were over 30 monasteries of which 16 still stand today. It's also the first national park in Serbia. Needless to say, there is something special about this place and winegrowing is documented back to the 1200s.

Painting in broad strokes, the Subotičko is largely defined by sandy soils and old vines, and the Szerémség by volcanic soils heavily influenced by the Danube River. Everything is farmed organically with zero absorbable chemicals. High density stake trained vines are the most typical and cover crops are natural. Everything is worked by hand or with the help of horses. Harvest is managed with local labor and the help of family and friends.
Winemaking
Everything is handpicked in small bins and all fermentations are spontaneous (primary and secondary). The use of older oak, small and large format is paramount. There are no additives to any of the wines apart from SO2 at bottling for select wines. Maurer basically has two tiers: Rege and Maurer. The Rege wines have low SO2 (25-40ppm) and the Maurer line is zero compromise with zero additions of any kind. Wines are typically only racked once before bottling and everything is bottled unfiltered.
>
>
Kékfrankos; Cabernet Sauvignon;
12%
0.52 g/l
4.71 g/l
"Lud" means Goose in Hungarian and Crazy in Serbian. There's an old Hungarian expression, "Ha lúd, legyen kövér!" that literally translates to "If it's a goose, let it be fat." In other words, if you're going to go big, go big in all respects. 2019 was mostly Cabernet Sauvignon and Kékfrankos, but 2020 brings a little Vadfekete (Divlja Crnka), Hamburg Muscat (crossing of Schiava and Muscat of Alexandria) and a splash Kadarka into the mix. Macerated in open vats for 7 days on the skins and then barreled down to 350L oak barrels, it's squarely in the chilled red category, but not in the carbonic or purely whole cluster kind of way. The short maceration keeps the muscat aromatics fresh, but there's grip from the Cabernet and meatiness from the Kékfrankos too. Vadfekete is something I've never had on its own (it grows here and there amongst the 1880 Kadarka), and it more or less translates to "wild red." Bottled unfined and unfiltered with a touch of SO2 (30ppm).
---
Szerémi Zöld; Bakator; Slankamenka; Olaszrizling; Kövidinka;
10.4%
0.98 g/l
4.66 g/l
"Lud" means Goose in Hungarian and Crazy in Serbian. There's an old Hungarian expression, "Ha lúd, legyen kövér!" that literally translates to "If it's a goose, let it be fat." In other words, if you're going to go big, go big in all respects. This pretty much sums up this wine. This is also table wine in the best kind of way. The Olaszrizling and a touch of Ezerjó were macerated for 3-5 days adding body and texture. The Szerémi Zöld and Bakator add acidity and primary fruit and the Slankamenka brings salt and aromatics. It's a celebration of local grapes done in a way that everyone can enjoy and afford to drink everyday. Bottled unfined and unfiltered with a touch of SO2 at bottling (20ppm).
---
Olaszrizling;
11.7%
0.83 g/l
6.29 g/l
This 56-year-old and small berry clone bush-trained 1 hectare vineyard was Oszkár's great-grandmother's dowry. The vineyard borders the Szelevényi nature reserve by only a 3 meter wide road. The wildlife and cover crops nearly mimic the forest. Oszkár also remembers his grandfather saying that Olaszrizling needs time with the skins in order to survive. Back then, there were no additions to the wines and Oszkár is keeping with both traditions. 5 days on the skins, all barrel, and no additions of any kind. He's also fond of describing this wine as grease and motor oil for the soul even though he prefers only man and horse in the vineyard. Wine from Fodor encapsulates the farming and the cellar from these older generations and has great significance to Oszkár. The 2019 is an intense concentration of flavors packed into 11.7% alcohol.
---
Furmint;
12.5%
0.96 g/l
5.09 g/l
This is another slight departure from the previous vintage. It's still open vat fermented, spends a couple days on the skins, and is aged in large Hungarian oak, but there's less influence from botrytis than in the 2019. The vineyard is in the Srem facing Croatia, so it's much warmer here than in both Tokaj and Somló. This is a great lens into the region from what Oszkár argues is the birthplace of Furmint before making its journey north in order to escape the advancing Ottoman armies. Where the botrytis still adds some spice and honey, this vintage is more acid driven, fruit driven, and structured. Bottled unfined and unfiltered with a touch of SO2 (17ppm).
---
Kadarka;
11.5%
1.24 g/l
5.23 g/l
This is the grape that brought us down into Serbia in the first place. The parent grapes are thought to be Papazkarasi originating from the border between Bulgaria and Turkey and Skardarsko which is native to the border area between Albania and Montenegro. Ottoman wars pushed Kadarka up into Hungary and spread into modern Romania, Slovakia, and Croatia. At one point it made up around 60% of all red plantings in the Hungarian Kingdom but fell to below 1% by the end of Communism due to it not being fit for industrial farming. Oszkár and a handful of other growers like Heimann & Fiai, Bott Frigyes, Grál, Vaskapu, Sziegl, and others are bringing it back to life along with dozens of other pre-phylloxera clones. Maurer's version is a benchmark for us. Bush trained, very low yields (.5 kg), a hint of botrytis, destemmed, open vat fermented, two punchdowns a day, and then barreled down to 350 L used Hungarian oak for 12 months. Unfined, unfiltered, and with a small addition of SO2 (25ppm) at bottling.
---
Kadarka;
11.7%
0.51 g/l
5.91 g/l
This is an extreme vintage and according to Oszkár the most successful of the past 15 years. Only 200g per vine and heavily selected thereafter. The 1880 vineyard is also the oldest known vineyard of Kadarka in the world. Planted in Pannonian sand, bush trained, and surrounded by fruit trees, they look like old hands reaching out of quicksand. Only farmed by human and horse. Similar to the 1912 planting, this site has undergone generations of massale selection that has resulted in very thick skins which is rare for Kadarka. According to Oszkár, it needs to be constantly tweaked and worked on like a high performance race car. There's also a little Vadfekete in the vineyard (botrytis resistant and dark berry) as well. Fermented with native yeast in open vat, barreled down to old Hungarian oak, and bottled unfined and unfiltered. This wine has intense concentration of flavor, advanced texture for its age and is still somehow 11.7% alcohol. This is markedly more expensive, but only made in select vintages and is the pride and joy of the estate.
---
Kadarka;
11.8%
1.44 g/l
7.32 g/l
This is only the third vintage we've tasted from this 109 year old vineyard. We are lucky to be getting just a handful of cases given it's extreme rarity. Generations of selection massale have created a super late ripening and thin skinned Kadarka. Yields are painfully low and there's an almost ripasso feeling when you first smell it. Harvested just inches above the ground by hand, it's fermented for about 2 weeks in open vats and then barreled down to old barrels for 12 months. Bottled unfined and unfiltered with zero additions. Despite the super ripe aromatics, this is still just 11.8%, impossibly light in weight and color, dry, and just beguiling in the best way.
---
Bakator; Mézes Fehér; Szerémi Zöld;
11.6%
1.1 g/l
5.77 g/l
This is a remarkable field blend from Nagy-Krisztus, one of the Grand Crus from the Szerémi wine region dating back to 1452. The name "Karom" is what this region was called up until 1540 and what is today called Sremski Karlovci. As best we know, this is also how this wine would have been made then as well. Picked together, co-fermented and then barreled down. In this case it spent 16 months in barrel and was bottled unfiltered according to the Lunar calendar with zero additions. The Bakator brings body and spice, the Mézes Fehér brings honey and concentration, and the Szerémi Zöld brings acidity and aromatics. This is like the great great grandfather of the Crazy Lud white in it's conception, but coming from one special site, much longer élevage and only made under the best conditions.
---
Kövidinka;
9.8%
0.72 g/l
4.51 g/l
Planted in 1925 in what looks like pure beach sand, the combination of a super resilient local grape variety and low disease pressure make it one of the best price to quality ratio wines from the area. Among the fossils of sea shells, one of the main cover crops is horseradish. We've heard it described fondly as green apples meets rich mineral spa water, but with 5 days of skin contact, it almost smells like a dead ringer for Spanish cider without the bubbles. After 8 months in 500L barrel, there's an additional spice and concentration despite being dry and 9.8% alcohol. Bottled unfined and unfiltered with a small addition of SO2 (15ppm).
---
Mézes Fehér;
13.7%
2.88 g/l
7.34 g/l
This is our third vintage of this grape and happily the third time I've had to write something completely new about it. Mézes Fehér, literally, "honey white" is typically able to contract a ton of botrytis without dropping acidity. The 2018 had around 20% botrytis infection, fermented on the skins for 7 days and aged in large Hungarian oak. The 2017 was aged under flor with two weeks of maceration. The 2019 by contrast, has much less botrytis, only spent 24 hours on the skins, and had zero flor. It's ripe, aromatic, structured, and in many straddles the divide between the 2018 and 2017. Bottled unfiltered with zero additions.
---
Muscat à petit Grain;
11.6%
0.5 g/l
7.78 g/l
Tamjanika, a Serbian clone of Muscat Blanc à Petits Grains. is planted in the volcanic, limestone and clay of the Remete vineyards just a mere 200-300 meters from the Danube River. The harvest took place over four picks only seeking out the mature bunches. After 2 days of skin contact in open vats, and barreled down for 15 months, there's the unmistakable Muscat aromatics, great acidity, and enough bitterness to balance it all out. Despite the mature ripeness at harvest, the winemaking doesn't dominate over grape and place and it's still remarkably 11.6% alcohol and dry.
---