"Our goal is the production of Tokaji wines, both dry and sweet, with a uniqueness of character, that are beautiful, elegant and meaningful ambassadors of the wines of Tokaj."—Stéphanie Berecz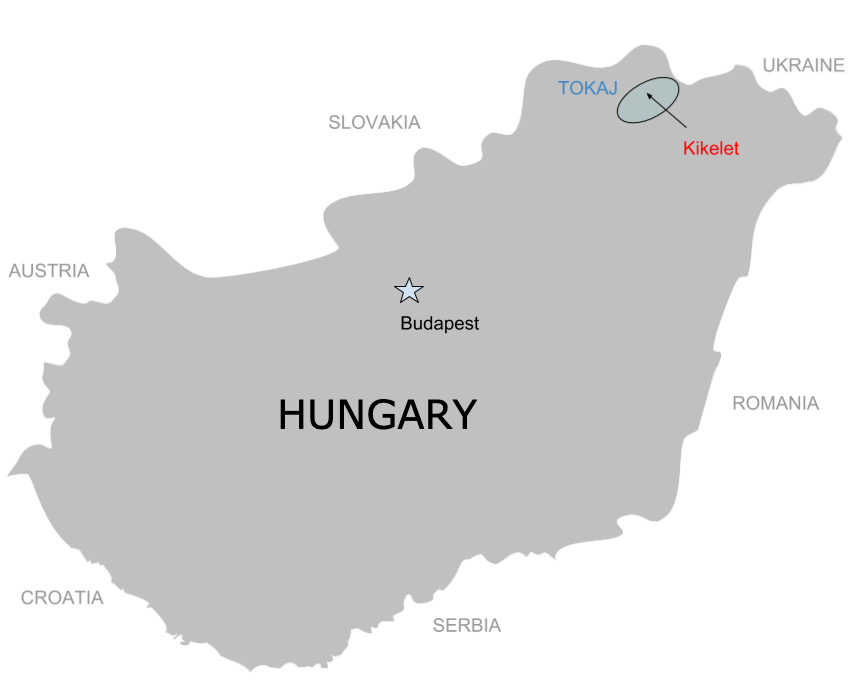 At a Glance
2002
http://tokajkikelet.hu/
Tokaj
Cool Continental
Volcanic covered with a layer of loess
170-200m
Low hills and landscapes of vines and forests
Furmint, Hárslevelű
5 hectares
Sustainable
Natural
The People
Like her compatriot Samuel Tinon, Stéphanie Berecz is a French eonologist who initialy came to Hungary to work at the Disznoko estate, a property owned by the French insurance company AXA. In 2002, she and her husband Zsolt founded Kikelet Pince in Tarcal near the town of Tokaj, a village where Zsolt's family has been living for over two hundred years. Regarding the winery's name, the story is that Stéphanie didn't want a name containing any of the "funny" Hungarian letters like ű, ü, ö, ő. So they chose Kikelet, which means springtime in Hungarian. Year after year, they gradually acquired different lots around Tarcal (Lónyai, Vati, Farkas, Lestas, Kassai) and today, they farm 5 hectares of south/south-west facing vineyards planted half with Furmint, half with Hárslevelű.
Vineyards
The soil in Tarcal is volcanic covered with a layer of loess. While aszú wines from Tarcal's loess terroir get the right amount of moisture and are known to be particularly elegant, nobody before them had tried to make dry wines in Tarcal. But with limited yield and carefully selected grapes, Stéphanie and Zsolt have shown that they could produce dry Furmint and Hárslevelű that are elegant, balanced, and full-bodied.
Winemaking
The Berecz family house has a two centuries old cellar partially carved into the rock where the wines ferment and mature in oak casks. The winery produces around 11,000 bottles annually, including dry and semi-dry Furmint and Hárslevelű, some from single vineyards or dülős, late harvest wines, Szamorodni, and hand-picked aszú wines.

The grapes are whole cluster pressed. Fermentation occurs with native yeast without going through the secondary malolactic fermentation. The must is then racked and put into French and Hungarian oak barrels. Aging is on the lees. Most of the barrels are about 4 to 10 years old with a few new Hungarian for the Furmint. The Hárslevelű has no new oak to preserve the fruity flavors of the grape without being overwhelmed by oak.

In 2014, Stéphanie has been awarded by her fellow winemakers the prestigious title of "winemaker of the winemakers".
Furmint;
12.5%
5.2 g/l
6.7 g/l
Furmint as a grape brings a ton of malic acidity to the party regardless of soil, farming and cellar. However, it takes a particularly unique form in the high porosity lime rich loess soils overlying the volcanic dacite and rhyolite bedrock at Kikelet. Post fermentation, this acidity is more characterized by a citric quality backed up by ripe fruit and the tell-tale salt and smoke of Tokaj. With Furmint, this also requires a little more time in barrel (6 months) and equally important, an extra year in bottle versus Hárslevelű. With little to no botrytis in this vintage, the extra year in bottle adds some needed weight and texture as well. This walks the often elusive thin line of crowd pleasing, but also extremely special to those well versed in high quality dry Tokaj.
---
Hárslevelű;
13.3%
3.3 g/l
7 g/l
The 2019 Birtok Hárslevelű (97% Hárslevelű, 3% Furmint) was hand harvested in the middle of September, whole cluster pressed and fermented and aged in 7 year old oak barrels for 5 months. Big spring rains helped healthy flowering after a drought stricken 2018. Super low mildew pressure leading up to harvest was ideal for the dry wines before humidity kicked in for October Aszú harvest. As any estate wine hopes to accomplish, this is a perfect introduction to her style. Short élevage preserves a ton of primary aromatics, there's still enough lees time for texture and weight, and given the relatively hot vintages, there's plenty of structure as well. Sweet acidity is assumed. Bottled in July 2020, 2790 bottles were produced.
---
Hárslevelű;
12.4%
4.7 g/l
7.4 g/l
Hand harvested in the middle of September and then whole cluster pressed and fermented and aged in 8 year-old oak barrels for 5 months. As any estate wine hopes to accomplish, this is a perfect introduction to her style. The relatively short élevage preserves a ton of primary tea like aromatics, there's still enough lees time for texture and weight, and there's plenty of structure as well. 2020 was also an acid driven vintage. So much so that the 2020 Hárslevelű ended up with more of an acidic edge than the 2019 Furmint. Tokaj isn't lacking for acid even in hot vintages and Stéphanie and Zsolt's lime heavy loess soils allow for a low stress long hang time adding a much needed concentration to the mix. Please buy all of this now, but if a few bottles hide away for 5-6 years, we are beyond confident it will be worth it.
---
Hárslevelű;
12.5%
3.5 g/l
6.6 g/l
In contrast to the Origo blend, Stéphanie never blends anything with Lónyai. This is a stand alone site. Tarcal is usually defined largely by loess soils, but it is of course more complicated than that. There is also chalk, dacite, and perlite that make vineyards like Lónyai susceptible to erosion but not as water retentive as clay. The acids here are sour and need aging, but once they balance out, it's one of the most elegant and intense Hárslevelűs in the region. Built to age, ideally we drink this 3-5 years after vintage.
---
Hárslevelű; Furmint; Zéta; Yellow Muscat;
12.6%
98.7 g/l
6.09 g/l
This is something that will bring us equal parts joy and frustration. Stéphanie's style isn't towards just making a dessert wine pairing, but to instead make a delicious naturally sweet wine. It's not aiming to shatter records for residual sugar, it has the same alcohol as most of her dry wines, and it's something that can be enjoyed in almost all circumstances. 2018 was a relatively hot vintage, so while there's not too much botrytis, there is extreme ripening under healthy conditions coupled with the naturally high acidity of both Furmint and Hárslevelű. Put together over 14 months in barrel and a couple years in bottle, this is exceptional bang for the Tokaj buck and a great foil for those skeptical or unaware of the joys of sweet wine.
---
Furmint; Hárslevelű;
12.4%
9.2 g/l
7.08 g/l
Stéphanie is one of a handful in Tokaj that does practically everything herself and in house. Primary fermentation in barrel, bottling for secondary in her cellar (2 years on the lees), and hand racked and riddled. The only thing done outside the winery was taking the bottles to be disgorged in the village of Bodrogkeresztúr where they have the machinery. A blend of 88% Hárslevelű and 12% Furmint, there's tons of stone fruit, mint, and an immediate Tokaj nose of honey and salt. Brut at 9.2 g/l and around 4 bars of pressure, the bubbles aren't explosive but persistent and elegant.
---
Furmint; Hárslevelű;
13%
2.5 g/l
7 g/l
The 2018 Váti Dry Tokaj (80% Furmint, 20% Hárslevelű) is something I've been waiting to pull the trigger on for some time. Much like the Lónyai, this site has been well known since 1540. It's also a site that needs a few years on it and we can finally afford, both in terms of cash flow and relationship, to be getting some that's ready to drink now. This was the earliest harvest ever for this wine on the 29th of August. Most of their wines spend 5 months in barrel, but the intensity of this fruit needed a minimum of 7 months to come together. This has the most density of any of their wines, and yet the chemistry doesn't really back that up. Back to truthiness. This is limited given only 1700 bottles produced, but something very special from Stéphanie and Zsolt.
---